About Us

Senior Staff


????
Site Owner/Webmaster
contact@kidsincorporated.us

Age when Kids Inc. started: 3
Age when Kids Inc. ended: 12
Favorite member(s): Martika (Gloria), Anastasia Horne, Rahsaan Patterson, and Jerry Sharell
Favorite season(s): Season's 1-5
Favorite KI song(s): Another Night, Conga, Glamorous Life, Individuality, Hindsight 20/20, Secret (91) and tons more!
Favorite episode(s): That's hard, a few would be "Stacy and the Clown", "Crush On You", "Decade of Hits" and "Leader of the Pack (1st ep--it's very nostalgic)"
Riley, Flip, or Dena: Riley

I remember the first time I saw Kids Incorporated. It was in 1987. I was over my friend Kristin's house when I lived back on Russell Road in Somerville, MA., a small city located about 15 minutes from Boston.

We were both 7 years old at the time sitting and watching the Disney Channel and all of a sudden a 1984 episode came on. Oh man, the minute I saw that Kids Incorporated marquee for the first time, I fell in love. The first episode I ever saw was "'X' Marks The Spot". From the opening song 'Love Somebody' by Rick Springfield, to the Kids Incorporated Original 'Treasure Hunt' I was hooked on the show! The dancing and singing was awesome.

After the show ended I rushed home across the street to turn it on channel 45 (That was Disney Channel for us) and to my sadness we didn't have the Disney Channel. You see, back then it was pay channel and cost about $25.00 a month if I remember correctly, but I told my Parents about the show and they ended up subscribing to it. From then on, music became my life.

By day I am a part-time college student in Grad school and I work at a major semiconductor company as an analyst.
So here I am years later keeping the popularity and most importantly, the spirit of Kids Incorporated alive. I had a site called Kids-Incorporated.net for a few years, but it got too expensive to run and I had to shut it down. Now that I have more bandwidth and better resources, this site is here to stay! So please sit back and as always, ENJOY!!
---
The Lucky Ones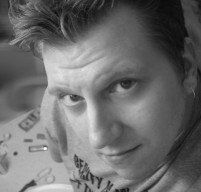 Jonathan Ruskin
News Editor/Newsletter Coordinator
jonathan@kidsincorporated.us

Age when Kids Inc. started: 6 (if you include the pilot episode)
Age when Kids Inc. ended: 16
Favorite member(s): Stacy Ferguson, Anastasia Horne, Jerry Sharell, Connie Lew, Martika, Ryan Lambert, Renee Sands, Haylie Johnson, Jennifer Love Hewitt, Rahsaan Patterson, Nicole Brown, Devyn Puett, special mention to Danielle Marcus-Jenssen and Charon Aldrege for being really sweet!
Favorite season(s): 1, 6, 9
Favorite KI song(s): Faithful, Please Save Us the World, Edge of a Broken Heart, We're Old, Hip Hop Hooray, I Have Nothing, Peace, Love and Understanding, All This Time, Gloria
Favorite episode(s): Never Too Old, Secret Admirer, Peer Pressure, The Beginning, Rock in the New Year, Don't Phone Home, Bullied (for nostalgia's sake, you can see me in that one!)
Riley, Flip, or Dena: Love all three!

ABOUT ME: Growing up I had one wish, to be on Kids Incorporated. In 1993 I got my wish--sorta. I was an extra, but it was a magical day.

Writing is my real passion in life, I'm currently writing a biography of an actor named James Dunn, as well as working on several pieces of short fiction. My ultimate goal is to go back to LA to write sordid tales of Old Hollywood. I also really dig website design, and run my own site "Hillbilly Profane," which is in the midst of a major makeover. I'm thrilled to Newsletter Coordinator here at kidsincorporated.us, and look forward to getting to know everyone very soon!

PS: How's this for being a fan--when I was 13 and got my braces off, I ordered a retainer that was blue and red with sparkles in it, like the finale outfits from Season 6. :-P
---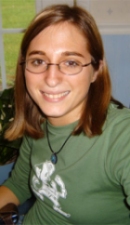 Adrea Hochstetler
YouTUBE Administrator
adrea@kidsincorporated.us

Age when Kids Inc. started: 1
Age when Kids Inc. ended: 10
Favorite member(s): Renee, Ryan, & Stacy
Favorite season(s): Season's 1-4
Favorite KI song(s): How Will I Know, Jump, The Warrior, and few others
Favorite episode(s): "Crush On You"
Riley, Flip, or Dena: Riley
ABOUT ME: I remember watching Kids Inc and wanting to be Stacy, mainly because I wanted Renee to be my older sister because my older sister and I didn't get along that well at that time. I also remember wanting to be on the show but I wasn't (and still am not) a good singer, so I started getting interested in what it took to put the show together. As a result of that I took video production classes in High School and College and had the chance to run my High School News show. I have also gotten to work for a Triple A Baseball team in there control room running broadcast of the games and concerts held at the stadium. Right now I am finishing up my degrees in Political Science and Computer Science.
---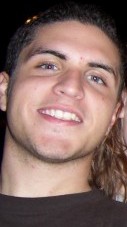 Age: 19
Location: Orlando, FL
About Me: Sophomore at the University of Central Forida...Go Knights!!! I'm also majoring in Business Management and minoring in Digital Media. I am also a Resident Assistant there.

My interests include going to the gym, reading, going to the beach, chill with friends, house parties, politics, makin' dvds, free food, driving around, and hittin' up theme parks!
---
Tara
News Editor
*Profile Coming Soon*

---
Geoff Mitchell
MySpace & KI-Radio Administrator